In this Filthy Rich Writer review I'll look at what in my opinion is the best platform for aspiring copywriters.
If you've read my article "How to Become a Freelance Copywriter" you'll have an idea of whether you might be able to make a living or side-income from being a copywriter.
You'll also have an idea of the obstacles you'll need to overcome.
The best way to overcome these obstacles is to learn from people who are successful already and have learnt the hard way how not to do it and then done it well!
Having reviewed the best of the copywriting courses available, and there are a few good ones, I found that all but one will give you the skills to be a copywriter, but then leave you out in the cold wondering how to get yourself in front of prospective clients.
The exception is the Comprehensive Copywriting Academy by Filthy Rich Writer.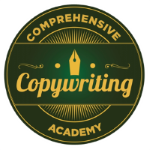 Filthy Rich Writer
Firstly – don't be put off by the name! In her own words, the founder of the business Nicki Krawczyk says that she gets a lot of flak for the name but to her being "filthy rich" means doing a job she loves, when she wants, and earning great money for it.
And maybe it's a testimony to her skills at copywriting – it grabs the attention!
Nicki has been a successful copywriter for over 15 years, and amongst the many blue-chip companies she's worked with are TJ Maxx, Adidas and Trip Advisor.
She set up Filthy Rich Writer as the result of a job she was doing in-house for an ad agency that required her to build a team of copywriters very quickly. She poached a team from another department and set up a training schedule to get them up to speed.
And from that initial experience of sharing her knowledge, Filthy Rich Writer and the Comprehensive Copywriting Academy was born.
What drew me to Filthy Rich Writer over and above the other training "academies" is that it not only teaches you the skills needed to write compelling copy, it also teaches you how to quickly build a business from it.
That includes very quickly honing your skills by writing "spec" articles to attract new small business clients, incorporating them into a simple website, and also how to pitch to businesses you'd like to work with.
Included in the Comprehensive Copywriting Academy is:
>The Foundation Course which is made up of 6 video modules with actions at the end of each. These cover the very basics of writing copy, right through to setting up your portfolio and pitching to your first prospective clients.
>15 "Masterclass" modules covering different types of copywriting such as social media, print, websites. But there's also a huge amount in these extra modules relating to getting your business running quickly and keeping the work flowing in.
>Monthly phone calls with Nicki to mentor you through the whole process.
>A private Facebook Group for Academy students to share experiences and receive advice
>Lifetime access to the training to allow you to brush up as you go.
>No time limit – do it in your own time.
Access to all future training modules included.
>30 Day Moneyback Guarantee – But only if you do the work.

The Comprehensive Copywriting Academy Overview – And Online Freedom Seeker Scores
Name: Filthy Rich Writer – Comprehensive Copywriting Academy
Website URL: www.filthyrichwriter.com
Founder: Nicki Krawczyk
Established: 2012
Training: 4.8 out of 5
Mentoring and Support: 4.8 out of 5
Value for Money: 5 out of 5
Cost: Depends on the package selected. View the video and check out the offers.
What's Included: Everything, including current, past and future training modules, access to private Facebook group, Mentoring calls. Only additional cost is setting up a simple website (possible for US$15 per month).
Overall Rating: 4.9 out of 5
Is it For Me?
In spite of the slightly cheesy name (in my opinion) this is not a get-rich quick scheme. Although, if you do the training, apply it and work hard following the proven formula, you should be able to start making an income within 3 months or so. It is a business though and takes constant work in order to build it and keep it going.
But if you want to be serious about achieving on-line freedom then there aren't any get-rich quick schemes that aren't scams. It will take work.
However the freedom to work remotely and in your own time is extremely attractive and a lot of students of this academy have gone on to make a rewarding career from copywriting.
I have personally enrolled on the Academy although I'm still on the first couple of modules. But what I've already learned has inspired me to recommend it to anybody else who believes they can make a career in writing.
And if copywriting is the way to go (which I believe it is) then there isn't another course available that will give you everything you need.

The Next Step
The following link takes you to an enrollment page where all you have to provide is your name and email address. No payment details and no scams. That gives you access to an hour long video by Nicki Krawczyk that gives you a lot of detail on what you need to do and how she and her team can get you there.
Enroll Now For The Free Video Training
Don't worry about the "value" she talks about toward the end, the cost is far less than that.
At the end of the video there's the option to join. If you're serious about it I'd recommend you do.
And if you do, I'll see you on the Facebook group!
Please do leave any comments or questions at the end of this article, or email me at adrian@theonlinefreedomseeker.com.
Affiliate disclosure:   As the owner of this website I may receive a small commission for any purchase you make as the result of clicking a link. This is at no extra cost to the purchaser.
Please follow and like us: