What is Wealthy Affiliate about? A question I get asked a lot when I tell people about how I'm building my online business.
Quite simply, WA has given me the tools and support to go from absolutely no knowledge about how to create a long-term on-line business to having a website that's ranked on the search engines and generating revenue. AND my first website is based on something I'm passionate about – kitesurfing.
So my second website (this one) is about my other passion – achieving financial and geographic freedom.
And I want to share that with you, because absolutely anyone can do what I'm doing if they're willing to commit to spending time learning the basics and applying the lessons from the wealth of knowledge that's available on the Wealthy Affiliate (WA) platform.
What is Affiliate Marketing?
In a nutshell, it's about creating content online, either via websites or social media – preferably both – that attracts traffic and/or followers.
You create interesting and informative advice on your chosen niche and then review, recommend or endorse a product or service. You then include a link to the product or service provider's website. When one of your readers clicks through and buys from their site you get paid commission.
That's it – no stock, no capital outlay, no posting and dispatching. You can do it from anywhere in the world with an internet connection.
You probably didn't know it, but virtually every major company, including eBay and Amazon, have affiliate programs. There are hundreds of thousands of them covering just about every niche you can think of.
And there are now 4 billion people with internet access, so the marketplace is truly the biggest in the world.
Wealthy Affiliate recommends building your websites around niches that are interesting to you and will attract traffic. And it gives you the tools to find those niches and research the competition.
Virtually any subject can be a niche, and you don't need to be an expert in it, just willing and able to research it so that you can write interesting and informative content.
The Overview and Online Freedom Seeker Scores
Name: Wealthy Affiliate
Website URL: www.wealthyaffiliate.com
Founders: Kyle Loudoun and Carson Lim
Established: 2005
Training: 4.9 out of 5
Technical Support: 4.9 out of 5
Mentoring and Support: 4.8 out of 5
Website Builder/Editor: 4.8 out of 5
Website Hosting: 4.9 out of 5
Research Tools: 4.8 out of 5
Cost: Starter Package FREE, Premium Membership First month $19 then US$49 per month or US$495 per year
What's Included: Starter Package – First 2 training modules and 1 website, 1 to 1 access to other members for 7 days. Premium Membership – Everything including up to 10 websites hosted. In addition, if you join WA as a result of reading this review I will be available to mentor you at every step of the way, along with the hugely helpful community on the WA platform.
Overall Rating: 4.9 out of 5

Internet Newbie to Expert in 1 Month
Okay, "expert" is a bit of an exaggeration in the first month. But the beauty of Wealthy Affiliate is that you don't need to be because they are.
And the timescale is up to you. But in less than a month nobody looking at your website will know that you aren't an "expert".
All you need to do is follow the simple, easy to understand training that's provided on the Wealthy Affiliate platform, carry out the simple tasks at the end of each training session and put time into doing the research on your niche that allows you to write content that attracts readers.
All the techie stuff is done behind the scenes for you.
But of course, the more knowledge you gain about how to get your content ranked on search engines, and how to make your content appealing, the easier it gets. And there's more knowledge, training and support available on Wealthy Affiliate than on ANY other online training platform out there.
4 Easy Steps to Becoming a Successful Affiliate Marketer
Step 1 – Choose a niche. This could be something you're interested in, or even that you know nothing about, but believe there is a market for. WA gives you all the tools you need to find and research money-making niches.
A niche can be anything where there's an audience for a product or service. And the more focused the niche the better. The list of possibilities is endless, but there's a whole load of training on this platform to help you identify a niche that you can write about and which will make you money.
Step 2 – Create a website based on your chosen niche. WA has an industry leading platform for doing this. Don't worry if you have no idea about where to start, The easy to follow training provided at WA will take you through it step by step and will allow you to create a website in less than 30 seconds.
And as a premium member, the websites you build are in WordPress, which is recognised as the best and most comprehensive platform for website developers.
Step 3 – Attract Visitors. What you'll come to know as "traffic" to your website. The training provided gives you all the tools you need to get ranked in the search engines so that you reach your target audience.
There are multiple ways to attract traffic, starting with interesting and helpful articles and reviews, but including the use of social media. It's all here in the platform.
Step 4 – Earn Revenue. When potential customers view your site and are encouraged to click a link to the product or service provider, you earn commission on any purchase they make.
World Class Training
Now don't get me wrong. WA isn't the only platform that teaches the skills needed to become an affiliate marketer.
I looked at a number of the best training platforms out there. And in most cases the training was pretty good and covered all the main skills and and methods needed to create a successful affiliate marketing business.
Some had a different emphasis, including using Facebook Messenger to directly contact readers. And others had a bit more training on the use of social media in the main training modules.
Most came with a price tag of anywhere between $600 to $3,000 for a one-off course, although one training course came in at a very reasonable $29 per month.
However, there were none that provided everything in a package, including website hosting and security, SEO tools, a website builder tool, that WA does.
And whilst some were better within their main training module on some aspects of social media marketing, I have since found all that training at a far higher level within WA in the free training tutorials created by WA members.
WA is a one-stop platform with everything you need to create an online affiliate business.
But it is also forum based. On the main home page there is a blog roll where you can ask any question you like. And within minutes you'll have answers, many from top level members.
Often the answer will link to a tutorial to give you whatever you need to create a successful business.
WA is recognised as the best provider of easy to understand training in the skills of building websites that attract revenue.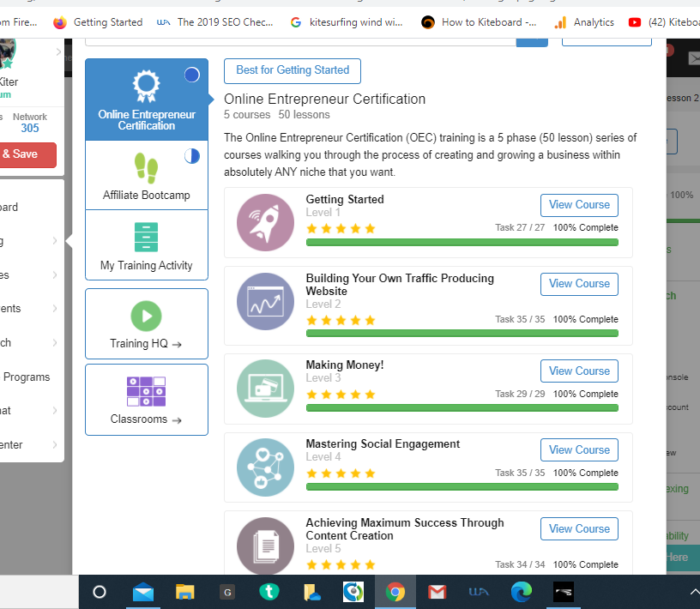 Most of the main training modules are created and presented by Kyle, the co-founder of WA. They're presented in video and written format to suit whatever works best for you.
On top of that there are weekly live training broadcasts from WA members who are amongst the most successful affiliate marketers in the world. And these are stored so that you can view them any time you like. There are hundreds available, covering every aspect of building a successful online business.
Many members of WA go on to create secondary careers in website building, local on-line marketing for small businesses, SEO for existing websites, and a host of other avenues. The training is all here, whatever direction you choose.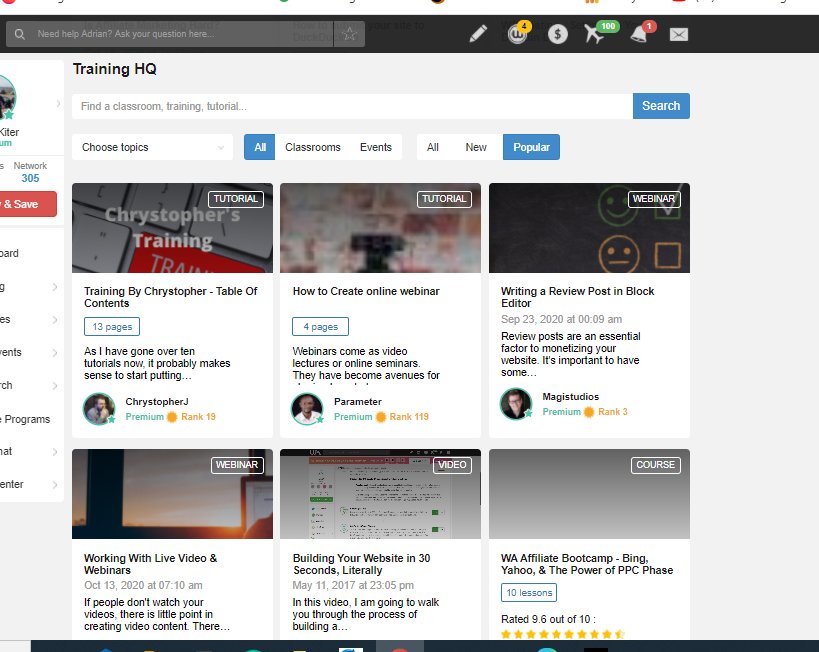 World Leading Research Tool – Jaaxy
WA has incorporated the best tool in the industry for researching keywords. These are the foundation of Search Engine Optimisation (SEO). The process of making your website content attractive to search engines such as Google and Bing.
SEO is what gets your content articles ranked in the first pages of web searches so that your audience can find it. And, including powerful and popular low competition keywords in your content is absolutely core to getting ranked highly by all the search engines.
Once your articles are ranked in the first couple of pages on a search the visitors start to flow to your website, and these are your potential customers. It's absolutely KEY!
And it's all included in the WA package at no extra cost and is super-friendly to use.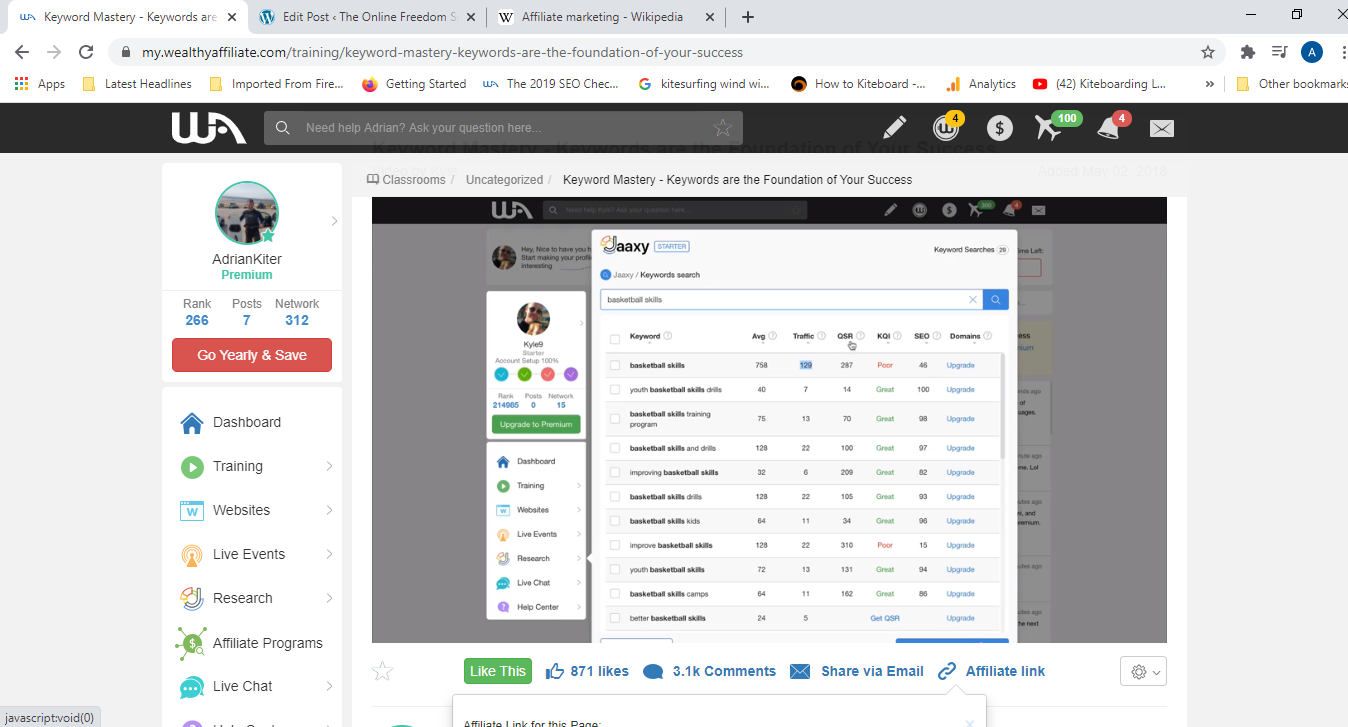 Jaaxy is really user-friendly. Type in your idea for a keyword phrase in the search box, press enter and out comes a list of similar keyword phrases along with completely accurate data such as:
-How many searches that phrase appears in per month
-How many searches it appears in per month if you're on page 1 of Google
-How many competitors there are with that phrase
-An SEO score of how effective that keyword phrase is 0-100
SiteRubix – Create your First Website in 30 Seconds
WA has created the easiest to use editing suite for you to create attractive content and then publish it via your own website.
If you can write posts on social media, then you can write content for your website. No computer coding or programming knowledge is needed – it's all done for you!
And all the training is provided on how to create great content that will attract readers and result in revenue.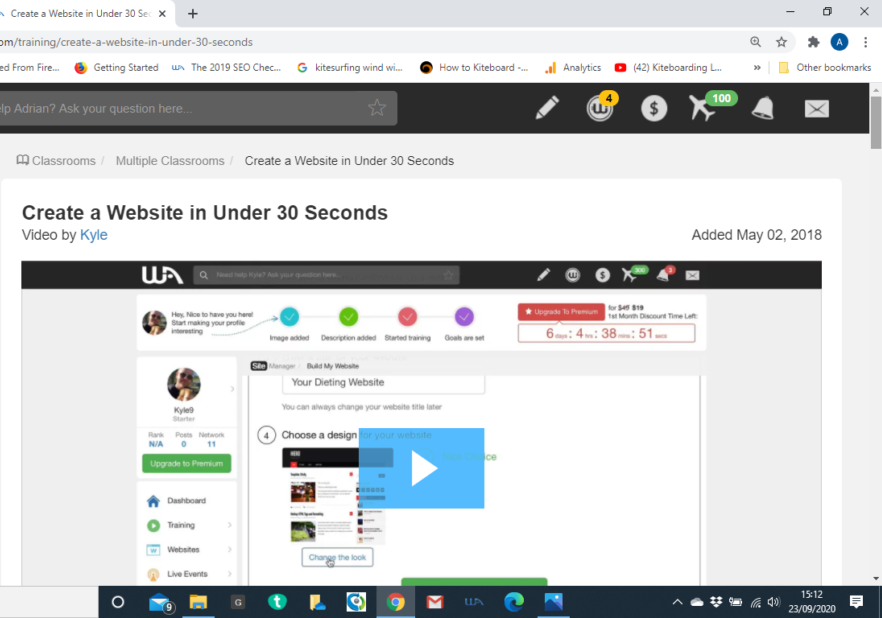 Site Support – 24 hrs a day
Behind the scenes at WA is a team of IT technicians who are constantly monitoring the performance of your site from a technical standpoint.
If any issues arise they are normally onto it before you know anything. But if you need technical help on any matter they normally respond within a couple of minutes – no queuing or waiting for a response. And it's all included in the package.
Access to Mentoring and Support
I can't emphasise enough how important this has been to me. The WA platform has as its home "dashboard" page a forum type blog. Here you can ask any question of the whole WA membership.
And within minutes there will be a reply from one of the experienced and successful members. They get benefits within the platform for doing this, but generally it is offered because everyone here has been through the same journey and is happy to share their experience.
Often the reply will include a link to a tutorial stored on the platform. I've actually never had  question that wasn't covered somewhere on the platform already.
And, for premium members it's all included within the monthly or annual subscription. Free starter members get access for the first 7 days.
No Up-Sells
Everything on the WA platform is included in the subscription fee. You'll never be asked to or need to pay anything extra.
Some of the 3rd party applications, such as Jaaxy have an upgrade option to give you more features, but you won't need them unless you really want to get deeper into statistics and research. And by the time you get to that stage you'll likely be making good revenue already.
Who is it for?
If you want to become free to work when you want to, where you want to be then this is a great way to get there.
You don't need to be a writer or expert, you just need to be able to communicate as if you were writing or talking to a friend.
It takes commitment and time and isn't a "get-rich-quick" scheme so it's ideal if, like me when I started, you have a job or business already, or are maybe retired and want to create extra income.
There isn't a guaranteed formula for success, and you will need to be open-minded and willing to apply the training you receive at WA. But if you're struggling with any aspect of your affiliate marketing business the support is there if you ask.
The more time you can commit, the quicker you'll start earning. But if you're realistic and disciplined about how much time you can dedicate to your new long-term business, then the time-scale is up to you.
But if you can meet these criteria and are prepared to put in the effort, WA gives you all the tools and 24 hour support from many of the most successful online entrepreneurs in the world, so that you can become a full-time affiliate marketing business.
It is possible to create a website with a company such as Wix for less than the cost of WA. However, you then need to also buy hosting,  and pay for any technical issues to be fixed if you can't do it yourself.
And you also wouldn't get the training, mentorship, research tools, and advice from fellow online entrepreneurs that you get included in the subscription cost of WA membership.
For these reasons, a lot of new members to WA are people who have already tried to set up a blog themselves and found problems in one or more aspects of what it takes to build an on-line business. They can see the incredible value that is offered in the membership fee.
Many WA members are making life-changing incomes, and they are available to fellow members to provide advice and guidance so that you can get there too.
Who is it Not For?
If you're looking to make a fortune overnight or even within a few months, then look elsewhere. But be prepared to come back once you've been scammed by the multitude of snake-oil schemes out there and realise that a long-term business doesn't happen overnight.
If you desperately need money NOW then I'd recommend finding a source of income that can sustain you in the short-term and allow you to build your online business in your spare time.
Try it For Yourself – For Free
I don't want anyone to commit their hard-earned money to something they haven't been able to try for themselves. And neither do Kyle and Carson, the founders of WA.
So we'd encourage anyone looking to get into affiliate marketing to begin with the Free Starter Package. This gives you access to the first 2 training modules on creating a ready-to-go website and allows you to create one free website on the WA platform.
There's no time-limit and absolutely no tie-in. And you won't be asked to provide any payment details.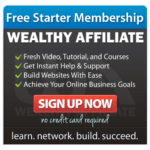 That said, the majority of people who take up the Free Starter Package, and see the opportunity available, will upgrade to Premium Membership in a very short time. That's why it's offered – they're that confident!
I upgraded the same day. I could see that for the price of a Starbucks a day (other coffee chains are available) the training, support and technical back-up at WA is unbelievably cheap!
There's a reason WA has over 2 million subscribers, so why not take a look for yourself!
As an added bonus, if you take up the free starter or premium membership through this link I'll be your personal mentor and will be available to guide you through everything you need to get going.
Absolutely No Payment Details Required!
I'd really like to hear any questions or comments so please do leave them below or email me at adrian@theonlinefreedomseeker.com
Affiliate disclosure:    As the owner of this website I may  receive a small commission for any purchase you make as the result of clicking a link. This is at no extra cost to you.
Please follow and like us: