If you want to get started drop shipping and have never ventured into ecommerce before, then Shopify is by far the best tool for the job.
If you want to know the basic steps you need to put in place to start a drop shipping business, check out my article 7 Steps to Setting Up a Drop Shipping Business.
What is Shopify?
Shopify was created in 2004 in Canada by a German born entrepreneur Tobias Lutke who had developed his own ecommerce solution for his online snowboard store.
He realised that his platform could be used by other online ecommerce stores and Shopify was born.
It now has over 1 million users and is the biggest ecommerce website building platform in the world.
Shopify is a platform that gives you all the tools to set up an online store for your drop shipping business.
To do it properly you'll need the following:
– Ecommerce Website
– Website Hosting
– Online Security
– Shopping Cart
– Payment Method
– Inventory Management
– Sales Reporting
The only thing on this list that Shopify doesn't automatically provide is the access to products. However, this can be fulfilled by a number of apps that are compatible with Shopify, the biggest of which are Spocket and Oberlo.
Everything else you need is on the platform.
The Overview and Online Freedom Seeker Scores
Name: Shopify
Website URL: https://www.shopify.com/
Founder: Tobias Lutke
Established: 2004
Training: 4 out of 5
Technical Support: 4.7 out of 5
Mentoring and Support: 4 out of 5
Research Tools: 2 out of 5 (but to be fair to Shopify they don't claim to provide this)
Cost: Basic Shopify US$29 per month. Shopify US$79 per month. Shopify Advanced US$299 per month. All plans offer 10% discount for annual payment and 20% for Bi-annual payment. There is also a 14 day free trial period with no payment details required. All plans are on a monthly contract (unless you pay annually or Bi-annually) so no tie in
What's Included: Basic Shopify gives you all you need to open a store and almost all the functions of the higher priced plans, but limits admins to 2. The higher priced plans offer 5 and 15 admins respectively. Reporting on Basic is limited to simplified sales data and inventory levels. Reporting is more sophisticated on higher paid plans. There are other differences that will only be relevant if your store gets to a high turnover level.
Value For Money: 4.9 out of 5
Overall Online Freedom Seeker Rating: 4.8 out of 5

So let's get into the detail of what you can do with Shopify:
Ecommerce Website
Shopify has created a very easy to use website building tool that means you can set up your store front website with absolutely no prior experience of building websites. You don't need any coding knowledge.
It's a simple template where you create your content, add your products and images, edit and publish.
You simply select a theme that suits your business. There are 9 free and 64 premium themes at extra cost, but for most businesses the free themes are perfectly adequate. Paid themes range in price from a one-off cost of between US$100 – 180.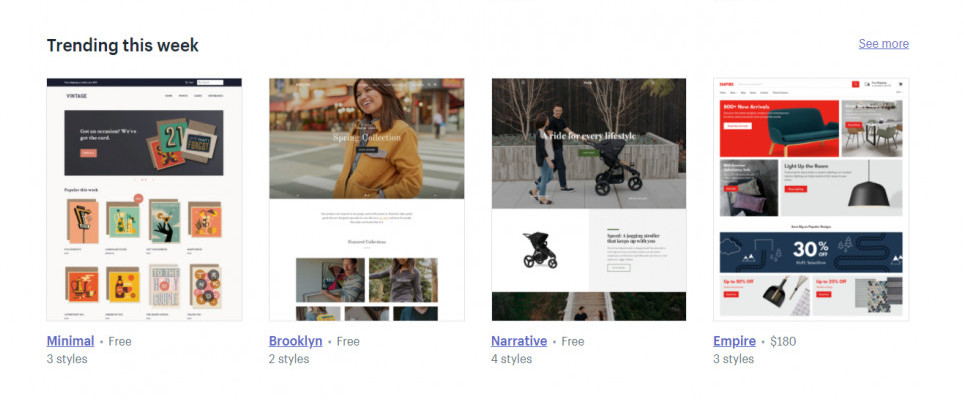 The themes are clean, attractive and fast loading as well as being automatically optimised for mobile devices.
The websites enable you to do all the things you need to set them up for Search Engine Optimisation.
Overall the website builder tool is very simple to use.
One minor criticism is that with the "out of the box" website you can't edit images after you've uploaded them although you can delete and replace. What this means is that you will need to edit the images, for example their size and dimensions, on your PC before uploading them.
That said, there are a number of add-on apps, most free of charge, that you can add to your websites. One of these does allow image editing.
Website hosting is included in all the plans. This is basically space on a server where your website is stored.
You buy your own domain name, but Shopify has a tool to find a suitable domain and facilitate the purchase. Generally the cost of a domain name will be $10 – 15 per year if you're buying one that isn't already owned. This is your on-line real estate and allows you to sell your website in the future or migrate it to another platform if you ever feel the need.
All the online security is top-level so that you comply automatically with data security in terms of your customers' personal data.
In terms of "shopping cart" that's automatically included.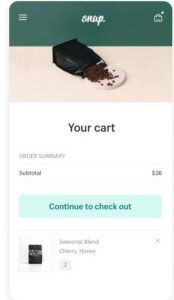 They also give you "check-out" payment facility so that you can take secure payment in most major currencies. There are credit card charges which vary between 0.5% and 2.6% of transaction depending on which plan you are on, the credit card provider and country it's based in.
The website also has a basic blog facility so that you can build out content that helps massively with SEO.
Inventory Management
The platform gives you access to an inventory management tool so that you can see what your stock levels are. However, if you're drop shipping you don't of course hold inventory so you would need to input stock levels at your suppliers.
Platforms such as Oberlo and Spocket, which put you in contact with suppliers can be added to your Shopify website as an app so that supplier inventory is automatically integrated.
Reporting
On the Basic plan the reporting is fairly limited, but gives adequate info on sales and payments but not much more. The reporting levels on the higher paid plans get much more sophisticated with analysis of profit levels, and breakdowns of product categories, profit margins and a lot more.
Training and Support
The platform gives you access to a wide range of training modules on everything from starting up to finding products and pricing.
There is also access to free-lance Shopify experts to allow you to out-source any aspect of your business, such as website design, social media marketing, image creation. These experts have carried out extensive training and accreditation by Shopify to qualify.
They do come at additional cost, but that is quoted depending on the job you ask them to do.
Technical support is 24/7 and seems to be highly efficient although they won't teach you how to code or alter your website or themes. It's essentially there to keep everything working.
What it Doesn't Do
The main purpose of Shopify is to provide an easy and hassle free way to set up your online ecommerce site.
Sourcing Products – This is up to you. And it is absolutely crucial to get it right. But Shopify won't do this for you, apart from basic info about trending products generally. To get this bit right I'd recommend the use of Spocket or Oberlo, whose platforms facilitate sourcing product suppliers and allow you to "import" products to your Shopify store.
Marketing and SEO – Your website is search engine friendly in terms of site speed and the ability to optimise SEO. However, the actual work of getting your website ranked in the search engines is up to you. So the all important task of researching keywords to include in your site will be up to you.
At a basic level you can do this by looking at Amazon and trying to work out what keywords your competitors are using. You can also use some simple techniques of inputting keywords you think relevant to your niche into the Google search box.
However, to really ramp up the power of low competition, high traffic keywords you really need a keyword tool. One of the most user-friendly and powerful of these is Jaaxy, which I use for this and my other websites.
In terms of marketing, all Shopify websites have social media integration so that at the click of an icon you can share your site on all the main social media.
However, you will need to actively market your business on social media and most successful ecommerce businesses are using Facebook advertising campaigns to drive traffic. This can cost as little or as much as you can afford, but initially it's good if you can budget for about $500 over the course of the first 2-3 months.
Order Fulfillment – The actual job of getting your products to the customer is not carried out by Shopify. If you're drop shipping then this is not such an issue, as long as you have arrangements in place with your suppliers.
But, if you're operating an inventory holding business then this is an added job you need to carry out yourself.

Would I Recommend Shopify?
If you're planning on starting either a drop shipping or any other ecommerce business where you plan to hold inventory yourself then Shopify is by far the most straightforward way to do it. It gives you all the tools to open up your store and it's very user-friendly.
And the value for money at all the plan levels is excellent.
If you're not sure, then I'd certainly recommend the free trial so that you can test it for yourself.
.
Please follow and like us: